By: Daniel Faris
America is no longer a representative democracy—a fact underscored by decades of grotesque and steadily worsening economic inequality and an election process that depends more on wealthy donors than on an informed electorate. Worker self directed enterprises are part of the solution.
Case in point: the middle class has been shrinking for decades and is now in the process of disappearing altogether. Since 1979, 90 percent of the economically-challenged have lost money each year, while the wealthiest 10 percent have posted huge gains, according to Forbes (and any reputable economist). The American dream is all but dead for the vast majority of us, with 1% of the population controlling 43% of the nation's wealth.
Self-determination in the workplace could be one of the keys we need to empower and grow the working class in our nation and re-igniting the American dream. And worker-owned cooperatives, worker self directed enterprises, could be the match that lights that flame.
The average annual income of the top 1 percent of Americans is $717,000, while the average income of the rest of us is $51,000 annually. That 1 percent of the population has a net worth that averages around 70 times the net worth of the other 99 percent of us. Americans used to believe that anyone could become part of the wealthy 1 percent simply by working harder and longer (some misguided souls still believe this in the year 2015). Increasingly, most realize that notion is no longer a reality in the United States of America.
The unequal distribution of wealth is at the core of many of our nation's social issues. We cannot survive as a democratic union if the majority of our citizens have become disenfranchised and disengaged from society. With more people voting for American Idols than American Presidents these days, it looks like we're already headed down that road, our dreams of upward mobility and equal opportunity out the window along the way.
America was meant to be a land of endless possibilities and self-determination. This country was established to give religious and economic freedom to its citizenry. Adams, Jefferson, Franklin, and other signers of the Declaration of Independence knew their proclamations would mean very little without economic freedom. Money is and always has been a major part of the "life, liberty, and the pursuit of happiness" that was promised to Americans. Worker self directed enterprises can fulfill that promise.
Rather than waiting for wealth to "trickle down" to 99 percent of our citizens, we need to generate greater income for everyone willing to work reasonable hours to attain it. This can be accomplished through worker ownership. When companies are run by the people that work there, wealth is automatically re-distributed to those that earn it. Worker-owned companies have an incentive to succeed in the long-term rather than just profit in the short-term, as the business model of today demands. And this is just the time to do it, too; the middle class seems to be rallying slightly, with foreclosures in 2014 hitting the lowest levels since 2006, despite some horror stories from certain parts of the country. It's time to harness the momentum of our economy's modest but encouraging growth and help the middle class rise to their potential. The Affordable Care Act is shaking things up in the workplace already, but there's a lot of work to do yet.
Even Ronald Reagan, renowned conservative and hero to the Republican right, believed in the power of worker-owned companies. In 1987 Reagan said:  "I can't help but believe that in the future we will see in the United States and throughout the Western world an increasing trend toward the next logical step, employee ownership. It is a path that befits a free people."
When short-term return on investment is a business's only goal, the rich become richer and the poor become poorer, which is exactly what's been happening in America for half a century. The business model of 2015 calls for wealthy investors to become even wealthier by buying successful companies, pillaging their assets, and promptly closing them to realize huge profits. This is bad for workers, bad for communities, and it contributes to economic inequality by concentrating wealth in the hands of just a few. In America today, you can't borrow money unless you don't need it and you can't make money if you don't have it to invest. It's the very worst example of a Catch-22, and we've decided to let it dictate how our economy and government operate.
So maybe it's time to take a look at the alternative.
Worker co-ops are businesses that are owned and operated by the people who work there, and they're an important step in bridging the gap between the rich and poor in the America of today. Rather than squeezing a business dry to benefit a few wealthy investors, worker-owned businesses benefit the many by focusing on long-term growth and stability, in the same way that real estate investors position themselves to realize growth long-term. The workers/owners are invested in the local community where they work and live and are financially rewarded when the business succeeds and survives. That is good for workers and businesses and it benefits Main Street over Wall Street.
Last year, Senator Bernie Sanders (a longtime supporter of a "one-payer" health care system) wrote "An Agenda for America," which turned his attention toward worker ownership and improved job creation and productivity throughout the country. "Instead of giving huge tax breaks to corporations which ship our jobs to China," Sanders proposes to instead "provide assistance to workers who want to purchase their own businesses by establishing worker-owned cooperatives." This is an idea that could change the world for 99 percent of America's population and one that Bernie Sanders hopes to sell to American voters in 2015.
Distribution of wealth
Distribution of wealth must be addressed for our nation to survive the future. Worker-owned cooperatives are an important step in healing the great economic divide that is killing America. Most companies today pay their CEO more than 300 times what they pay their workers. This disparity lays the foundation for economic inequality. The Worker Cooperative business model calls for executives to be paid no more than 3-6 times what the workers are paid, paving the way for a fairer and more level playing field for the American working class. This is the road to survival for America and economic freedom for its citizens.
The future is already looking brighter with politicians like Sanders calling for change and building grassroots movements to wrest the economy out of the hands of the wealthiest 1 percent and back into the hands of working Americans. In addition, the United States Federation of Worker's Cooperatives was established to empower our nation's workers, offering guidance in creating democratic worker-ownership. The USFWC hopes to advance worker-owned and governed businesses through advocacy, development, and education with the goal of bettering the lives of working Americans. They represent over 100 worker-owned businesses and could even help you and your co-workers affect change where you work and live.
With national elections looming, it's time for Americans to address the future and embrace a much needed change to the American business model. And make no mistake; this is a moral issue, plain and simple, wherein the central question is this: "Is it okay that our economy is rigged to benefit just a tiny few?" Excuses like "Life isn't fair" and "That's just the way it's always been" will continue to ring false until we address these issues in responsible ways.
Organic Trade Association Online Campaign Reaches 15 Million Consumers 
Washington , DC US (October 21, 2015) — Fact: You can eat organic on a budget. Fact: Organic agriculture can help feed the planet. Fact: There are proven health benefits of organic. These are three of the more than 30 research-backed facts that the Organic Trade Association (OTA) and partners digitally disseminated each day in September (Organic Month) as part of its highly successful "Myth-Busting Month" social media festival.
Equipped with fresh science and recent trend data posted as artfully designed daily infographics, OTA and more than 100 member companies' online celebration reached 15 million consumers throughout the campaign, garnering well over 200 million social media impressions* on Facebook, Twitter, Pinterest, Instagram and LinkedIn.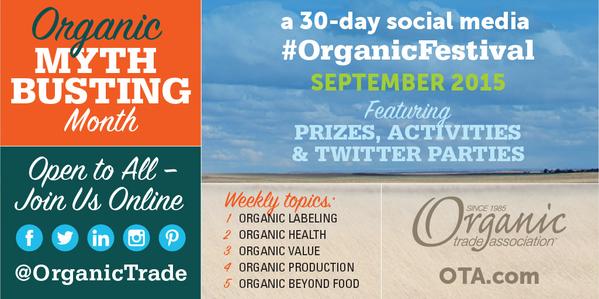 "Organic is a choice that an increasing number of individuals, farmers and product brands are making each year, but despite the growing demand for organic, our community must continue to get the message out about the health, social and economic benefits of organic food and farming," said Laura Batcha, OTA's Executive Director and CEO. "The campaign's tremendous reach and engagement reveal that not only is the public hungry for organic food and products that reach beyond food, they also are hungry for organic facts."
"With the participation of our member companies as well as the passionate support of organic enthusiasts, 'Myth-Busting Month' let us connect directly with millions to clear up misconceptions and celebrate the choice that organic provides farmers and consumers," Batcha continued. "We hope this momentum will continue with a new, ongoing fact-based conversation about organic on social media and beyond."
An organic fact a day:
Each week throughout the festival, leveraging the #OrganicFestival hashtag, organizers focused on select categories of frequently shared myths, including Organic Labeling, Organic Health, Organic Value, Organic Production and Organic Beyond Food.
Then, each day within that week, OTA and partners posted a myth on their social channels, and 'busted' it with a fact graphic, encouraging followers to re-post to create a unified voice across multiple social channels.
Among the campaign's daily topics, consumers clearly had an appetite for clarifying the difference between organic and natural. #OrganicFestival facts about the meaning of the USDA Organic Seal received the campaign's most engagement. Posts busting the myth that there is little difference between organic and natural reached up to an estimated 100,000 people.
To deepen engagement throughout the month, OTA hosted six Twitter Parties, featuring Q&As with Twitter followers on myth-busting topics alongside co-hosts such as Ashley Koff, RD; eco-fashion pioneer Marci Zaroff; The Organic Center; and, the Rodale Institute. One party – focusing on Organic Value – featured 4,500 posts from up to 400 users, reaching more than 650,000 individuals.
In addition, 31 OTA members awarded randomly selected social media followers who engaged with the content – offering 61 prizes valued from $25 – $350.
All told, more than 23,000 individuals used the #OrganicFestival hashtag, creating more than 36,500 posts. The campaign more than doubled the results of last year's first industry social media festival – "Organic-Palooza" – a 10-day event celebrating the health, economic and agricultural benefits of organic.
"It is clear that there are still many misconceptions surrounding organic," said Miranda May, Community Manager with OTA member Mamma Chia, which shared #OrganicFestival content heavily throughout the campaign and realized high daily engagement. "Mamma Chia is dedicated to helping consumers understand the truths associated and taking part in the OTA's #OrganicFestival was an important step in doing so. When the Mamma Chia community gets involved, reposts our content and publicly thanks us for the invaluable insight, it is positive reinforcement that we are on the right path."
Individuals can access archived "Myth-Busting Month" content to continue sharing on their own channels in the months – and years – ahead.
* "Reach" is total number of individuals who had the opportunity to see #OrganicFestival content on their social channels. "Impressions" is total number of times these individuals had the opportunity to see #OrganicFestival content
About The Organic Trade Association (OTA): OTA is the membership-based business association for organic agriculture and products in North America. OTA is the leading voice for the organic trade in the United States, representing over 8,500 organic businesses across 50 states. Its members include growers, shippers, processors, certifiers, farmers' associations, distributors, importers, exporters, consultants, retailers and others. OTA's Board of Directors is democratically elected by its members. OTA's mission is to promote and protect ORGANIC with a unifying voice that serves and engages its diverse members from farm to marketplace.